About Raymond Chuchuk...
Raymond's roots
Raymond's family name comes from the Ukraine, however, Raymond is originally from the little village of Wallyford, just outside of Edinburgh. Raymond was born in 1960 where he grew up with his older brother Stefan and his proud parents Walter and Margaret. Walter was also a keen musician and encouraged Raymond to play his favourite instrument - the Accordion. By the age of 8, Raymond was already entertaining the village with his obvious talent for the "box" and performing at local shows and concerts.
Walter and Margaret never had any doubt that Raymond was born to perform on stage and so, to pursue his passion for music, Raymond moved to Galashiels, on the Scottish borders in 1980, to work for the well known musical instrument supplier Jimmy Clinkscale (who sadly passed away in 2008).
Going solo
In the mid-eighties, as Raymond developed his knowledge of musical instruments, as well as his extraordinary talent for playing them, he moved to Inverness and was offered a contract in a long running Scottish cabaret called "Scottish Showtime", directed by the legendary John Worth. Having completed three successful summer seasons, Raymond decided to go solo. To the delight of ballroom and sequence dance lovers, Raymond has since appeared at venues all over Scotland, England and even annual tours of Kobe, in Japan, where audiences are wowed by the Scottish theme and heritage of Raymond's performances.
In 1993, Raymond was introduced to the major record company Savoy, by one of his biggest fans and dear friend, David Hoyle. Raymond has gone on to sell albums all over the world and is a hugely popular choice for sequence, ballroom and Scottish dancing classes and groups. Raymond's recording has gone from strength to strength, launching his own production label in Gem Music and producing 14 fabulous albums. Raymond's most famous album "Let's Dance" went Silver in 2006, which Raymond says is one of the proudest moments in his career.
Making music
There's no doubt that Raymond has become a local celebrity in the Scottish Highlands; as a regular performer on radio, playing on TV, and entertaining on a very popular tourist circuit that attracts loyal audiences travelling hundreds of miles just to see him play. Now living in the very beautiful and historic town of Culloden, just outside of Inverness, with his partner Jane, Raymond has two lovely sons, Michael and Alistair, who too are showing their flair for music!
The music of Raymond Chuchuk will undoubtedly continue to delight audiences from all over. Whether you're looking for something to dance to, some easy listening, Scotland's finest songs, or even to recapture memories that beautiful music can often evoke, you're sure to find Raymond Chuchuk has a wonderful talent that can't help but be admired.

Fantastic album earns Raymond a Silver Disc...Raymond Chuchuk's album "LETS DANCE" reached new levels in a surprise ceremony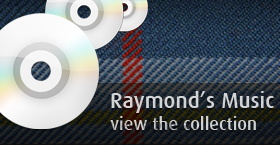 Raymond endorses these great organisations
ESRA Dornoch Lifeboat
www.esra-lifeboat.org

Shearings for that memorable holiday experience
www.shearings.com

A wide variety of dance tuition with Bob & Jean Kilpatrick...
www.ukandancestudios.co.uk

Ronnie Ross. A top class fellow entertainer
www.ronnieross.co.uk

Ross County Football Club
www.rosscountyfootballclub.co.uk

Kenny Nairn
www.kennynairn.com

Dingwall National Hotel
www.dingwallnationalhotel.co.uk

www.blackfriarshighlandpub.co.uk

www.castletavern.net

www.carltwilson.com